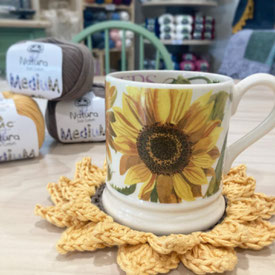 At around this time every year our minds are always occupied with thoughts on finding the perfect gifts for the loved ones in our lives. For crafters there really is no better feeling than gifting an item, that you have not only put thought into, but one that you have physically made yourself.
Handmade gifts come straight from the heart.  The person you make the gift for is on your mind when you choose the project, their likes and dislikes are at the forefront when you are deciding on the yarn and the colours and with each stitch you make you are thinking of them. Handmade gifts really do get made with love. 
I have put together a short list of some great projects that I have made as gifts. There are a good variety of different projects that will suit a wide range of people. I hope this list sparks some ideas for you and helps you tick off some items on your Christmas list.
1. Coasters
Coasters are a useful gift that can be as decorative or as plain as you like. They can be gifted as a set or just a single one with a matching mug. I made the Sunflower Coaster using DMC 'Natura Just Cotton' 10ply and a 4.5mm hook. One ball of Mustard and Earth Brown should be enough to make 3 coasters. 
2. Teacosy
For those loved ones who enjoy drinking tea from a teapot, a teacosy can be such a well received gift. If you are unsure if they own a teapot then you can always buy a plain one and create the custom made crochet teacosy in their favourite colours. The Pretty Poppy Teacosy is my own design and can be purchased as a pdf downloadable pattern or as a crochet kit, with all the materials included. Teacosies can be a great way to use up leftover scraps of yarn in your stash too. 
3. Clutch Purse
This simple Clutch Purse is a great gift for teens. It's perfect for keeping makeup or cosmetics in and is a great size for taking out as a handbag too. I used 2 balls of the DMC 'Natura Just Cotton' 10 ply to make this. It was such a quick make, only taking me a little more than one evening to complete.
4. Market Bag
You have probably already seen my Farmhouse Market Bag, but it's worth me mentioning it in this list because it is a fantastic gift. Great for gifting to friends, family, teachers and acquaintances. Whenever I take this bag out and about I always receives compliments and often receive requests to make it for people too. Cotton yarn is the best for making this type of bag and I have lots of colours available in the Market Bag Crochet Kits too. 
5. Wash Cloths
Wash Cloths or Dish Cloths are useful and pretty. You can gift them as a set or individually with a bar of handmade soap. They are also a great way of trying out some new stitches, so it's a win for all involved, especially you the maker. My set of Textured Wash Cloth patterns were published in Homespun Crochet Magazine and I have a crochet kit available as well.
6. Hot Water Bottle Cosy
Another useful and pretty gift is a Hot Water Bottle Cosy. Designed to keep your hot water bottle warm for longer and to also be soft and cosy to cuddle. These can be made in any colour to suit any decor. The pattern is available in Homespun Magazine June/July 2021 and also available as a crochet kit. 
7. Scarves
There are so many options when it comes to making scarves. When making it as a gift I find a traditional shaped scarf is usually best. Two patterns I enjoy making are the Windowpane Scarf and the Openwork Scarf. I have used 3 balls of Millpost Merino to make the Windowpane Scarf and 2 balls of M&S Quartet to make the Openwork Scarf. You can also make a scarf using one skein of hand dyed yarn. The patterns by Olga Poltava are perfect for a one skein project, as you can just keep repeating the pattern until you use up the entire skein, again that's a great reason for working a traditional shaped scarf. Olga has some beautiful patterns that I highly recommend you try, some are also available as video tutorials. 
8. Fingerless Mittens
Fingerless Mittens are a great gift for everybody; kids, adults, men and women. There are two patterns I have used for mittens and really enjoy. The Fantail Stitch Fingerless Mittens, made using M&S 'Quartet' and the Granny Square Mittens, that can easily be made using scraps of left over yarns or M&S 'Estate' 8ply, if you would rather pick some specific colours. 
9. Soft Toys
Soft toys are not just great for kids and babies, but if you can find the right pattern, they can be a perfect gift for an adult too. You can find amazing amigurumi patterns now, including some very unique animals and creatures. From unicorns and dragons, to turtles and chickens. Just about anything. Take a look at some of the wonderful pattern books I have available for crochet toys. 
10. Rattles
Rattles have been a go to baby gift of mine for quite some time. It is so easy to turn any crochet toy into a rattle by adding a rattle insert to the inside stuffing. The rattles pictured take the form of a donut and are a great shape for babies to hold. 
I hope this list of Gifts to Crochet has given you lots of ideas and has inspired you to start working of some crochet gifts for family and friends this Christmas. 
Happy Hooking