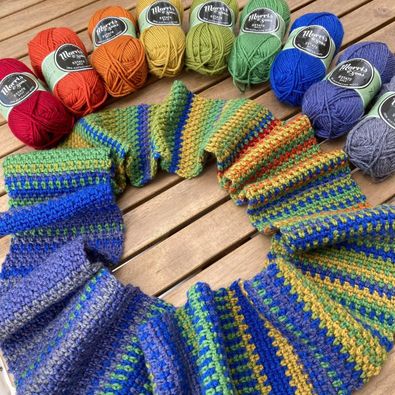 Have you heard of a temperature blanket? 
It's been a much talked about crochet project of the past few years and a little google search will show you just how varied the projects can be. I thought I would take some time to share my little take on a temperature project in the form of a Birth Year Scarf that I made for my son.
Typically, a temperature blanket is a blanket that is made of 365 rows (366 for a leap year), one row for each day of the year. You then have a set of colours, with each of the colours representing a temperature range. You find out the maximum temperature for any given day then you crochet a row using the specified colour for that temperature. It's usually undertaken as a year long project that people begin on January 1st and they complete each row as the days progress. It can be treated a bit like a daily journal, perhaps it might become part of your evening wind down routine or a weekend ritual where you complete the rows for the past week. Regardless of how you choose to work on it, as the seasons come and go, the temperatures change and your blanket evolves, you will be left wit ha colourful visual reminder of the year that was.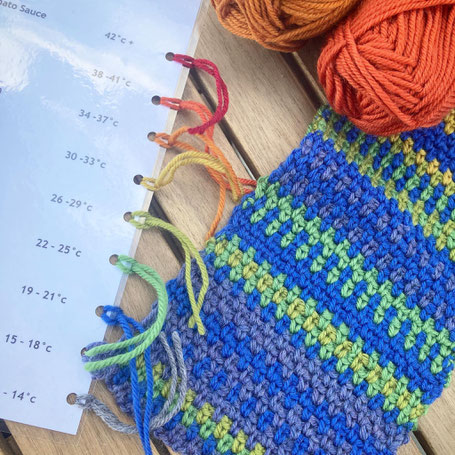 I decided I was going to work on some form of temperature project but I wasn't going to go down the regular path of a blanket starting on January 1st of the new year.
If I was going to devote a project to a specific year it would need to hold some personal significance to me. Then I thought how great it would be to document my son's birth year. Thankfully the Australian Bureau of Meteorology keeps temperature data and I was able to find the maximum temperature records for 2012. Cameron was born on August 20th so I chose to start my temperature data from August 20th 2012, the day he was born, til August 20th 2013, his 1st birthday.
I also decided not to make a blanket but instead to make a scarf. You hear of a lot of people making temperature blankets but there's no reason why you can't make a scarf or a table runner, anything that is going to work with 365 rows.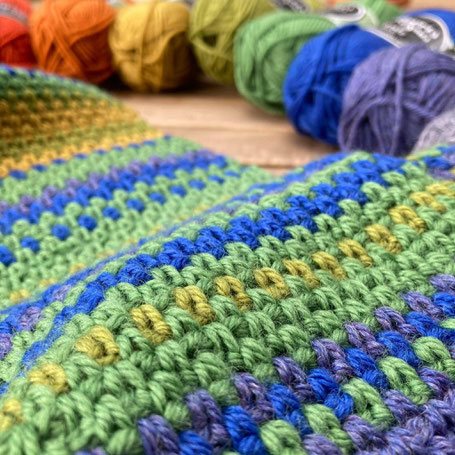 So I'd chosen my project and found the data, what next?
Deciding on a stitch pattern, choosing colours and sorting out a colour/temperature chart.
There are 365 days this year, so that means 365 rows or 365 squares/blocks.... so choose a small square or a pattern that has a thin row. Moss stitch is a great one for this and it's what I chose to use for the scarf.
You will also need to pick the area you are going to record temps for. It's best to see what the temperature range is before you decide on the number of colours you are going to use. No use having 40 colours when your temperatures are never that varied. Also keep in mind that the temperature range increments will have an effect of the overall look of your project. If you have large increments of 5 degrees or more, you will likely have large blocks of colour. Choosing smaller increments of between 2 and 3 degrees with give a  gradual change and show the colour gradient better. For my scarf, I used 9 colours of Estate 8ply Wool, the temperature ranged from 12 to 42 degrees and I used 3 degree increments.
My temperature project tips;
Pick a project that you will actually use.

You are not restricted to a calendar year. Pick whatever start date you like.

Choose colours that work for you. If you like blues then use blues. You don't have to have a rainbow of colours.

You will have lots of ends to weave in, so try and do them as go, don't leave them until the end. 
Once the planning set up is done it's a great project. The change in colours keeps you keen and interested and watching the colour pattern evolve is lots of fun. If you need some help planning your own temperature project then feel free to get in touch.