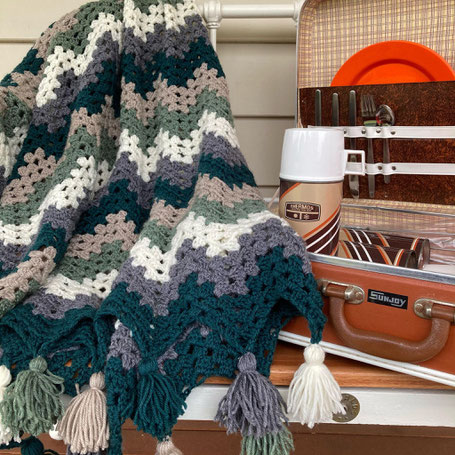 A few of you out there know that I have a love of all things vintage. I have a small collection of vintage china, a few pieces of vintage furniture and I adore vintage style clothing. My husband, Tim, also has a love of vintage things especially cars. A few years ago he "saved" a 1961 Ford Falcon. We've managed to start restoring a few parts of the car, but it's a long way from being ready to drive. I had decided early on that the car was going to need some vintage accessories and of course a crochet rug would be a must. Every vintage car needs a crochet blanket draped across it's back seat. 
So I set about deciding on a pattern and colour scheme. I wanted to make the rug using a pattern that represented the era the car was from. I settled on a 'Granny Ripple' pattern. The classic granny clusters forming a zig zag chevron pattern was the perfect combination.  Next came the colours. I wanted to match the yarn colours to the car upholstery and the exterior paint. The upholstery has been done in two tones of green vinyl and the original exterior paint was 'Merino White'. Should be easy to match a wool to that colour don't you think? 
I decided on 5 colours from the Morris and Sons, 8ply 100% Australian Wool, 'Estate' Range; Sage, Spruce, Voile, Greystone and Clay. I used 21 balls in total, with a little left over after finishing the blanket, tassels and all. The finished size of the blanket was 130cm x 110cm, made using a 5mm crochet hook.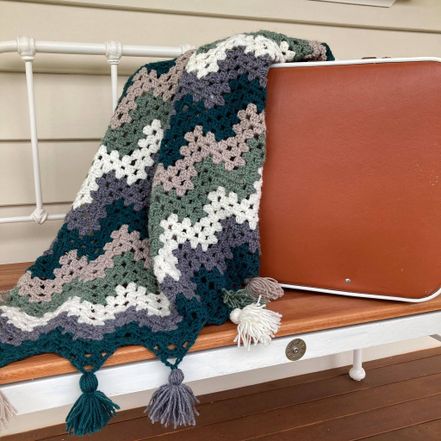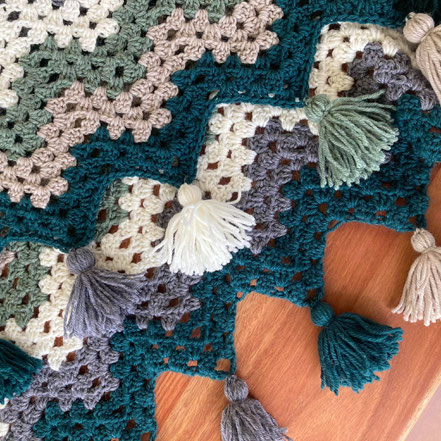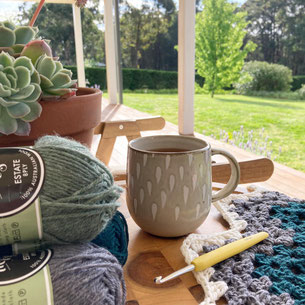 It was a lovely relaxing project to sit and work on. I really looked forward to picking it up and mindlessly crocheting away on it. It worked up so quickly and to be honest I was quite sad to complete it. This project was definitely about the process of making not just  the final product. 
I decided not to put a border on the blanket but I did think the zigzag edges needed tassels; lots of them, in all the colours!
In the past I had made tassels by wrapping yarn around a credit card or some cardboard, however this time I wanted to test out the Clover Tassel Maker and I am so glad I did! This simple tool makes tassel making a breeze. In one night I was able to make about 2 dozen tassels for the blanket. I put together a little video tutorial if you are interested in seeing How to use a Tassel Maker.
Making this Vintage Picnic Rug was such a pleasure and I can't wait to see it laying over the back seat of our '61 Falcon as we head off on our Sunday family drive.